SWIRLED WITH DECADENT
FLAVOURS IT'S A DESSERT LIKE NO OTHER
A mousse that's creamy,
fluffy and full of dairy-free goodness.
And with 350 calories or fewer in the whole tub?
DECADENT FROZEN DESSERTS AND SMOOTH DAIRY-FREE BEVERAGES
Everyday deliciousness is dairy free
and flavourful. Sip, bite, pour, scoop,
lick or chug throughout your day!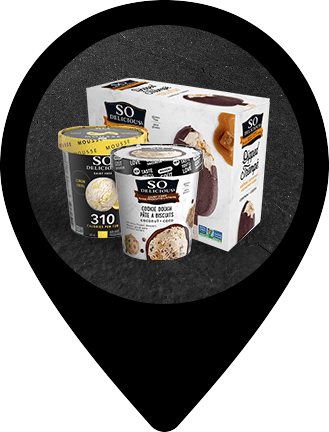 LOOKING FOR YOUR DOSE OF DELICIOUSNESS?
FIND US IN THE NATURAL AISLE OF
YOUR LOCAL GROCERY STORE.
OR USE OUR PRODUCTS LOCATOR
AND IF YOU STILL CAN'T FIND US,
ASK YOUR GROCER TO STOCK SO DELICIOUS!
delicious
ingredients
When it comes to deliciousness,
we believe
quality ingredients
matter as much as taste.
That's why
we're passionate about things like
organic coconut, compassionate
sourcing
and Non-GMO Project
verification.